Long Distance Moving Company
As one of the industry's leading long distance moving companies, Condor Moving Systems proudly serves our valued customers moving out of state. Our team of moving experts understands making a long distance move can be very stressful; that's why Condor provides you with a moving support system starting with the initial moving quote until the last piece of furniture is placed in your new home. Since Condor opened our doors in 2003 we've operated and set the highest standards in the moving and storage industry; from our knowledgeable moving consultants to our highly trained moving crews Condor has streamlined our service offering best practices and high safety standards to insure a most successful long distance move out of state.
About Condor's Long Distance Moving Service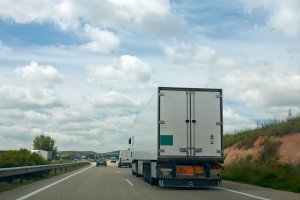 Now that you're moving out of state what is the next step? Choose your mover, choose Condor! Choosing a long distance moving company is a big decision; after all, you're trusting us with everything you own- whether you're just out of college or you have 20 years of precious memories, your things are important to you and us. Condor Moving Systems is fully licensed and authorized to make long distance moves thru the Federal Motor Carrier and Safety Administration. Condor is also fully insured and holds two of the highest distinctions in the moving and storage industry as a ProMover thru American Moving & Storage Association and Pinnacle Mover thru Southwest Movers Association. Our fleet of trucks are top of the line and integrated with all the latest and relevant technology from GPS tracking, automatic lift gates, air ride equipped for a smoother ride and strapping system to secure your furniture in place. Our dedicated team of moving consultants and our professional full time uniformed moving crews combined with their specialized knowledge will streamline your moving experience lending forth a seamless transition into your new home. It's important when making the decision on who your long distance moving company will be that you feel comfortable with the company behind the experience and certifications, Condor has carefully selected a team of professionals that cares about our customers.
Get Started Before You Move
When you are hiring Texas long distance movers, the process doesn't start simply when the truck shows up the morning of the move. We want to be ready for the event, and we take the time to understand your circumstances so that we know exactly what services you're looking for, what items need the most care, and what details of the process we need to consider closely.
And when the day of the move comes, we're ready with the materials and manpower to make the job happen as carefully as possible, while acting with efficiency and thoroughness. We have decades of experience in interstate and long-distance moving, and we will utilize that experience as we pack all your fragile belongings, antiques and heirlooms–and we provide that same level of care to all your standard household belongings as well. More than anything else, we want to make sure that you are happy with the moving process from start to finish, and that includes packing, loading, traveling, unpacking and placing your items where they belong in your new home.
It is this level of care that puts Condor Moving head and shoulders above other interstate moving companies. Our level of care and attention to detail is unmatched in Texas long distance movers, and we take pride in the level of customer satisfaction that our history has produced.
Condor's Long Distance Moving Service
Condor understands communication is key when making a long distance move, there are so many moving parts, questions and changes along the way – it's important to have a direct point of contact from beginning to end and when it's convenient for you. Condor provides each of our clients a knowledgeable moving consultant to assist with the initial quote and all the details along the way available not only M-F 8:30-5:30 but also after hours via our 24 hour answering service. Our experienced and customer focused moving consultants will collect all pertinent information and begin piecing together a customized service to suit what your specific needs are. We understand not everyone's move will fit in a standard cookie cutter mold – it's our job to design your moving mold for a seamless transition into your new home. Our standard service included on every move includes:
• Personal Moving Consultant
• Free Binding estimates or Not-to-Exceed long distance moving estimates
• Disassembly/Reassembly
• Blanket Wrapping all Furniture with Heavy duty Moving Pads
• Loading/Unloading Household Goods
• Placing Furniture in Designated Rooms
• Free Full Value Replacement Coverage
• 24 Hour Emergency Customer Line
• Professional Uniformed Moving Crew
Long Distance Moving Service Coverage & Quality Moving Service Guarantee
Condor Moving Systems stands behind our service by offering full value protection on all our long distance moves. What does this mean for our customers? It means savings and full value protection for your things during the relocation process. Moving companies must provide 1 of 2 types of coverage- basic carrier's liability or full value protection. Basic carrier's liability is the minimum level of liability coverage at .60 cents per pound per article and is what most moving companies include in their long distance moving service at no cost to the customer. Full value protection is a much higher level of liability and designed to be more for replacement value at $6.00 per pound per article. Some companies charge several hundred, if not thousands of dollars to have this level of coverage along with a high deductible. Condor Moving Systems is so confident in our crews and service we provide full value protection – for FREE- with only a $500 deductible.
We Finish the Job Right
As experienced Texas long distance movers, we understand that the job is not done simply when we arrive at your destination. Moving is a massively stressful time, often full of emotion, and we understand that and want to make the process as painless and worry-free as possible. So we take extra care when we get to your new home and begin the process of unpacking and turning your new house into your new home. Our workers are sensitive to your concerns and they treat your belongings as if they were their own.
As items are unloaded and moved into your new home, carefully placed in each room according to your specifications, we have you check off the inventory as it's taken from the truck to make sure that each and every thing you've entrusted to our care is delivered safely and properly. We never want to leave you with any doubt or dissatisfaction, and we know that our thorough service and attention to detail will make this long distance move seamless and easy.
We know you have plenty of things you're worrying about when you move–new jobs, new schools, new neighbors, new house–and getting your belongings from Point A to Point B shouldn't be an additional source of stress. When we leave you at your new home, everything unloaded and put where it needs to go, you should feel at ease and begin the process of acclimating to your new home.
We stand behind our long distance moving service; from your initial inquiry for a moving quote to the careful placement of your last item by our movers; we look forward to assisting you with your upcoming long distance move. The first step towards finding out how we can serve you as Texas long distance movers is to reach out to us to let us know more about your specific plans and needs. The sooner you get this started, the easier it will be to put a plan together. Please contact our sales office at toll-free 877-460-6683 or complete an online quote request to be contacted by one of our friendly Moving Consultants for further details about our long distance moving services.