Your Locally Reliable Commercial Moving Company
Condor Moving Systems is Texas' leading commercial moving company. Our commercial movers understand the importance of efficiency when it comes to moving, regardless of whether it's a small office or an entire building. We'll work with you to create a customized plan that exceeds all your expectations. Depending on your needs, you can rely on our movers to help pack and secure your furniture and equipment and ensure each package arrives safely and securely at your new location. Our motto is, "Moving Anyone Anywhere." We're here to help reduce downtime and allow you to get back up and running as quickly as possible. Each of our movers prides themselves on attention to detail and superior customer service. Reach out to discuss your next commercial move today.
Explore the Benefits of Hiring Commercial Movers
We have experience handling all commercial moves from small offices to multiple-story complexes. With Condor Moving Systems, you can focus on other matters while we worry about all the details. Our teams can handle everything from packing vital equipment to transporting and unloading at your new location. Here are the benefits of taking advantage of our commercial moving systems, including: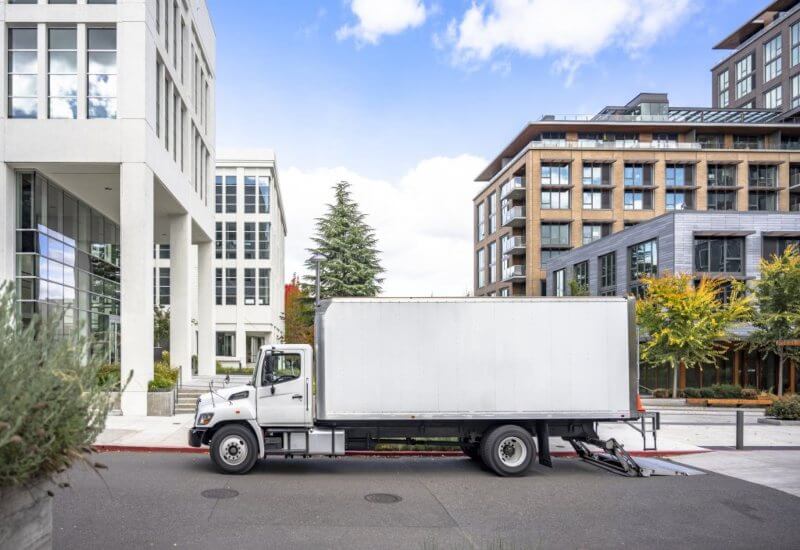 Avoid Renting Unnecessary Equipment – When you hire Condor Moving Systems, you won't have to worry about renting any equipment. We have a fleet of moving trucks, equipment, and packing materials to ensure your items remain safe and secure. It also lets you focus on other aspects of the move instead of tracking down the equipment.
Reduced Stress – Our teams will handle every aspect of your relocation. This helps reduce your and your employee's overall stress levels.
Nothing Gets Missed – With our team, you can rest assured we'll leave nothing behind. We always perform a final check to see if any cables or power strips were left behind.
Attention to Detail When Handling Equipment – We have the skills and know-how to properly and efficiently pack your expensive equipment. We'll ensure it arrives secure.
Systematic Process – Our teams have a tried–and–true process they follow for each commercial move. This helps create a quick and efficient system to pack, load, transport, and unload your business.
How to Best Plan Your Office Move
Planning a commercial move takes more time and consideration than a traditional residential move. Whether you're moving local or long-distance, there are several things to consider. When you reach out to Condor Moving Systems for help, we'll discuss all aspects of your move. That includes creating a customized plan that includes scheduled moving dates, discussing packing supplies and what packing services are needed, discussing manpower and number of moving tricks needed, identifying moving services needed, and more. If you have any questions or aren't sure of what services you may need, don't hesitate to reach out and ask. We'll happily answer any questions. At the end of the day, we want to help move your business with as few disruptions as possible.
Why Relocate to Texas?
Whether you're looking to be a part of an exciting culture or want to take advantage of tax breaks for your business, there are several reasons to relocate to Texas. Texas provides a premium business environment. Further, we have a low tax burden, a healthy economy, and are home to a highly skilled workforce. In fact, Texas leads the nation in attracting business relocations. Here are some reasons to consider relocating your business to Texas:
Low Corporate and Personal Tax – Texas is one of the few states that doesn't have an individual income or a corporate income tax. Lower tax rates help provide more affordable office spaces in popular areas such as Austin or Dallas/Fort Worth.
Land is Affordable – Beyond having no corporate or individual income tax, Texas is known for affordable real estate. This is one of the biggest draws for small businesses. Cheaper real estate makes it easier for small brick-and-mortar businesses to pop up. When it comes time to move, be sure to call the Condor Moving Systems team.
Wealth of Talented Staff – Texas is home to top-rated colleges, and the great weather helps attract talent from all industries. We have a great workforce who are excited to get started.
Schedule Our Commercial Moving Company Today
Since opening in 2003, Condor Moving Systems has been dedicated to helping business owners throughout Texas with all their moving needs. We have the experience and know-how to move your business quickly and efficiently. Our commercial moving services are designed to minimize downtime and to help get your business back up and running with minimal interruptions. Whether you need help packing your office or moving your items from one location to another, we have you covered. Further, we provide storage options, allowing you to store excess inventory between moves. Our mission is to make your move as stress-free as possible. To learn more about how we can help streamline your commercial move, give us a call today.