Condor Moving Systems is proud women-owned moving company recognized as a Historically Underutilized Business by the State of Texas with a long history of dedication to customer service, quality moving services, client satisfaction and exemplary moving certifications & recognition. With over 15 years of experience in the moving service industry, you can trust Condor Moving Systems to handle your local move or long distance move with care, respect, and efficiency. Condor currently holds "ProMover and Pinnacle Mover" moving certifications by the top two industry moving organizations; the American Moving and Storage Association and the Southwest Moving Association.
ProMover Certification


As a ProMover Condor Moving Systems has proudly agreed to abide by the American Moving and Storage Association code of ethics and passed a review of professional business standards before being recognized as a quality moving company. Condor Moving Systems has signed an agreement affirming to uphold the American Moving and Storage Association rules to provide quality moving services by holding this moving certification. The main purpose of the ProMover program is to promote ethical principals in the moving and storage industry. ProMover Brochure
Pinnacle Mover Certification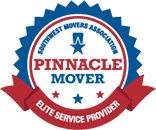 In May 2010 Condor Moving Systems obtained the highest moving certification an intrastate mover can achieve; Pinnacle Mover status from the Southwest Movers Association. Out of 800 registered moving companies in the state of Texas Condor Moving is proud to be 1 of 28 moving companies to currently hold Pinnacle Mover status. As a Pinnacle Mover Condor Moving Systems has passed a rigorous moving certification process that can give our customers peace of mind that Condor Moving Systems is the right choice. The Pinnacle Mover Brochure
We are proud to back our moving services by our moving certifications to work for you as a ProMover and Pinnacle Mover providing moving services you can always trust.