Condor Moving Systems Helps Texans With Storage
Condor Moving Systems offers storage services for local moves and long-distance moves. We serve many major cities in Texas, including Arlington, Dallas, Fort Worth, Houston, Austin, San Antonio, and many others. Storage is available for short-term or long-term moving needs in our 20,000 square foot state-of-the-art secured and climate-controlled warehouse. All items coming into our storage facility get inventoried at the customer's home prior to loading on our truck. Each receives an inventory tag with a unique color, lot number, and item number to correlate it back to the customer's original shipment. Inventories are done to ensure that what we pick up at the customer's home is delivered.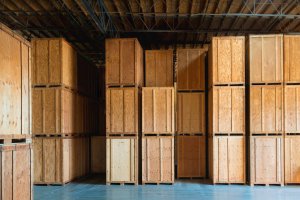 Our storage solutions have helped residents for more than 19 years, and our dedication to the industry is what separates us from other options in the area. Our fully licensed and insured team takes the best care of your items while in our facilities. Our unparalleled standards cannot be matched in the area. Reach out today to see how we can help store your holiday items throughout the year, while you are moving, or just when you need a bit of extra space. Long- and short-term storage services are our specialty. Ask about our reasonable monthly payments options as well!
Short Term Moving Storage Services
Short-term storage provides those customers who need a place to hold their household goods in storage for less than 30 days. This can be the perfect storage solution for those planning a shorter move in the Texas or DFW area. Maybe the closing on your new home got pushed back, or you need to get something out of your house because you bought something new. Our short-term moving storage services are ideal for anyone moving within Texas, including major cities like Dallas, Fort Worth, Houston, Austin, San Antonio. If you have further questions about these storage services, please do not hesitate to call.
Long Term Moving Storage Services
If you need a storage solution lasting longer than 30 days, Condor Moving Systems has you covered as well. We have storage services to help you store your furniture and more for over a month. Shipments being stored for over 30 days are placed in wooden storage crates to ensure they are kept together and secured. We only use the best materials the industry has to offer in order to keep your possessions safe and secure while on our property. Keep them with Condor Moving Systems for as long as you need while getting set up in your new home. Once you're ready, contact our office and we will set up your delivery. Our team would be happy to go over more details when you call for more information.
Reason to Use Condor Moving Systems Storage Services
Many of our customers must move out of their current home and need to place their household goods in storage until their new home is ready or until they find a new place to move into. At Condor Moving Systems, we can store our customer's household goods in our warehouse until our customer is ready for delivery. They simply let us know and get them scheduled for delivery. Long-term and short-term storage charges are based on the actual weight of the customer's household goods; rates start at $100.00 per month. Storage charges are billed monthly and due by the 5th of each month. Below are some of the other reasons Texans choose Condor Moving Systems when they need long- and short-term storage services when moving:
We can help with the initial packing of your house
Friendly and prompt staff
Free estimates on all moving and storage services
Competitive rates
Moving crews and drivers with exception skills
State-of-the-art moving and storage equipment and facilities
GPS tracking on all vehicles to prevent loss
Trust Condor Moving Systems With Your Belongings
Condor Moving Systems is happy to offer both long- and short-term storage solutions that will suit the needs of anyone moving throughout Texas. No matter where you're moving, our licensed and insured movers can also help get you there. We are a full-service team that has been in the business for over 19 years. Our team utilizes the best methods when it comes to moving and storage services. We can also supply your move with all the boxes, tape, and padding you need to protect your furniture, artwork, entertainment devices, and more. To learn more about our storage solutions, please contact us today.