Let Condon Moving Systems Keep Your Possessions Secure
When packing for a move, there comes a point where you must consider how you're going to pack and move your large and fragile items. How can you ensure they'll arrive safe and sound? At Condor Moving Systems, we believe your moving process should be as easy as possible. We're proud to offer Texas residents our fragile-only moving service, perfect for local and long-distance moves. Our services can be customized to meet your unique needs. We'll ensure your items are safe and secure by using high-quality shipping materials to protect them in transit. To learn more about how we can help make your next move stress-free, reach out 877-460-6683.
What Is Fragile-Only Moving?
Fragile-only moving is a style of moving and packing that focuses on handling fragile and large items. Regardless of whether you're moving across Texas or to another state, these items require special care and attention to ensure they arrive in the same condition they left. Our fragile moving service is often called "white glove service" due to how we handle these goods. With our help, you can focus on handling the rest of your move while we focus on your fragile items. We'll work with you to help determine which items would benefit from our fragile-only moving service. Take a look at the most common types of items we handle with our service, including: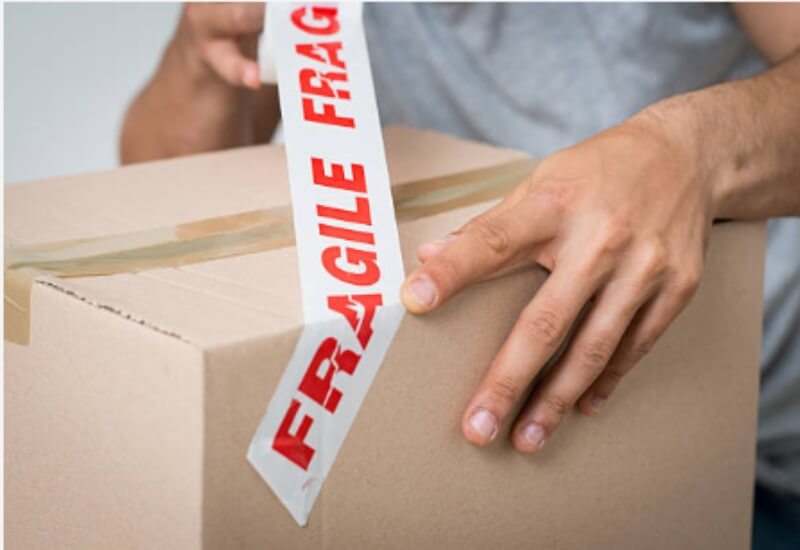 Antiques – Most antiques require special care to move to a new home safely. Whether they're antique mirrors or furniture, we use high-quality packing materials to ensure a safe trip.
Large Items – If you have more oversized items requiring multiple people to safely move, our fragile moving service can help. We understand that larger items can take up space or get scratched or damaged during transportation. We'll ensure it's safe and secure.
Furniture That Can't Be Disassembled – It's not uncommon for chairs, tables, and other pieces of furniture to be broken down into smaller, more convenient pieces. However, furniture like couches or other goods require specific considerations. We have the experience and skills to move these items quickly and efficiently, ensuring your move remains hassle-free.
Instruments – Whether you play the piano, harp, or other large instruments, you can rely on our team to ensure they're well cared for. We have specialized tools and packing materials to move them correctly.
Glass and Mirrors – Glass is a big concern when moving. If you have any furniture or large mirrors, we can ensure they arrive pristine. Our team has the skills and equipment to ensure they arrive without scratches and the fear of breaking during your move.
Grandfather Clocks – Preparing your clock for safe moving is crucial regardless the distance of your move. We will remove the weights from the clock, wrap the weights with moving blankets, place moving blankets inside the clock to stabilize it and finally wrap the exterior with bubble wrap and blankets to properly protect the body.
Tips for Packing Your Breakables
Since 2003, we've been helping families across Texas move. During that time, we've picked up a few valuable tricks to help safely pack fragiles. Our goal is always to ensure you can move from home to home without breaking any valuable items. We've compiled a list of some of our favorite packing tips. If you're unsure, don't hesitate to ask our team for help. Here are our tips on how to safely and securely pack your fragile items:
Limit the Size of Your Boxes – It's always best to use a smaller box when packing fragile and breakable items. The smaller the box, the less likely it is to be crushed or dropped during the move. It also ensures that the box is lightweight.
Remove Any Light Bulbs – We recommend never packing a lamp with the light bulb still attached. It's likely the bulb will break and lead to a larger issue.
Protect Your Pictures – When packing any photo frames, it's important to ensure they're protected. We recommend wrapping them in newspaper, bubble wrap, or t-shirts.
Smartly Pack Your Kitchen – Use kitchen towels to wrap breakables as you pack your kitchen. This helps you save space while maximizing your resources. Also, fill the space with towels or cleaning rags while packing vases. This helps reduce the possibility of breaking.
Trust Our Fragile Movers Today
When you choose Condor Moving Systems for your next move, you'll work with a team of dedicated professionals. We'll create a personalized plan to move your fragile goods. Our team takes every precaution to ensure your home goods arrive safely and sound. Whether you need our team to handle your fragile goods or help load and unload boxes to your new home, we'll be there to help. Let us know what help you need, and we'll work with your schedule. With our team on your side, you don't have to worry about anything. Our services are streamlined and focus on utilizing best practices while ensuring the highest safety standards possible. If you're ready to experience the Condor Moving Systems difference, reach out and give us a call. We'll discuss your needs and offer you a competitive quote.