Trusted Texas Movers For Over 19 Years
Longing for professional long-distance movers? Look no longer! Condor Moving Systems will get you where you need to go in an expedited and efficient manner. With a dedicated team of professional long-distance movers, we have relocated people to the very tip of Maine all the way to the shores of California, from the sunny state of Florida, and back to our home state of Texas. The movers of Condor are fully licensed and insured to provide full service moving, including short-term and long-term storage, and can provide in-home and visual video estimates for the required services.
We can also help companies looking to move their business or headquarters elsewhere. We load your current office and head out to your new location using the same high-quality equipment and trucks. Once our team arrives, we will unload your chairs, desks, lamps, monitors, and more and set them up t your specifications. Give us a call today to go over all the specifics of your new location and allow us to develop a personalized long-distance moving plan. We will also provide you with an estimated cost of all our services. Moving is difficult enough without being a considerable distance away from your current space. Condor Moving Systems makes it easier than ever to get your old stuff into your new place.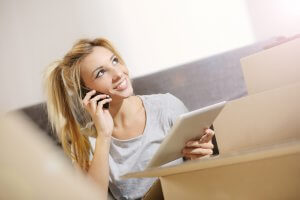 We Move You All Over the Country
There is no corner of the United States we won't go to in order to set up your new headquarters and home. We travel all over the continental U.S. to help our customers get their belonging to the new space and get back to work and living in no time. Thanks to our many years in the industry, we have developed methods to make our staff efficient and effective with our long-distance moving services. The Condor Moving Systems team use only the best tools to safeguard your move from issues involving lost belongings and other damages. We get your furniture, posters, appliances, and everything else to your new home or office out-of-state. While we are based in Texas, reaching these other states is no problem for our movers. We also reduce the amount of back and forth using multiple trucks, but should you need us to make another trip, we're happy to comply. Our Texas movers can get you to all of the following locations:
Why Hire Condor Moving Systems?
Hiring a team like Condor Moving Systems for our long-distance moving services gets you to your new space quicker and more efficiently. Our staff is equipped with all the necessary tools and trucks to get the job done in one trip instead of trying to rent the truck yourself. Our professional can also take care of all the heavy lifting. Attempting to perform all of the required tasks when moving far away can be incredibly stressful, which is why we have perfected it. From start to finish, we handle all the long-distance moving services, so you can relax and enjoy your new space. All drivers also have the proper insurance to keep themselves and your items safe while driving on the interstate.
Long Distance Moving Services
Condor Moving Systems are the number one team in Texas when businesses and residents need full-service long-distance movers. Even if you don't have time to pack up your belongings, you can count on our team for assistance. We offer full packing options and partial packing to save you time and eliminate the stress associated with these types of hauls. Get peace of mind when you work with Condor Moving Systems.
Additionally, if you are not totally ready for the big move, you can store your belongings in our short-and long-term storage facilities. Our storage warehouse is climate controlled, cleaned daily, and securely locked away from public access. Count on our expert team for all of the other following long-distance moving services:
Pre-move consulting – Before you pack your first box, we will sit down with you to develop a personalized moving plan to meet all your needs, wants, and budget. We will schedule an in-person, over-the-phone, or virtual tour to access the spaces and belongings, ensuring you only pay for the long-distance moving services you need.
Most comprehensive and detailed cost estimates – One of the reasons moving can be so stressful is the cost associated with it. Rely on Condor Moving Systems to provide your family or company with detailed cost estimates so you can stay in the know about how much you are spending and on what. We work together to help maximize your budget and stay within the limits.
Project management on-site supervision – Unlike other moving companies in California and Texas, we provide you with a project manager on-site throughout the entire move. If you have questions, they have the answers. It also makes it easier when there are pivots necessary to the success of your next long-distance move.
Office furniture moving – Are you looking to relocate your office to another state? Condor Moving Systems helps with commercial long-distance moving services to get you to your new headquarters in no time. No matter the business, time is always money, so don't waste yours with an inefficient moving team. We will pack all of your supplies and equipment to deliver them in a timely manner safely. We also will help set up backup once we finish moving.
Cubicle, systems, and furniture moves – Our team easily handles these more oversized items and can break them down in order to move them more swiftly and safely. To get you back to work even quicker, we also rebuild all these structures before setting them in place at your new office.
Crate rental (secure ties) – Given our history in the industry, we have access to the best long-distance moving materials. Crate and secure ties are some of those materials which we use to move your belongings safely and securely. They stay safeguarded from moving around and potentially cracking, tearing, breaking, or flying away from our vehicles.
Post-move services – Count on Condor Moving Systems to help ever further after the move by reconfiguring the layout and more. We can assist with the initial design of your new space and give helpful tips or advice on how the office could flow better to increase productivity. An employee that loves coming to work will get more done than one who constantly complains about how the office is configured.
Secure storage – If your new space is not yet ready for the move, consider using Condor Moving Systems' short- and long-term storage facilities. These options are climate-controlled, and we keep a rigorous inventory log when moving in to ensure the safety of your belongings. When you are ready to receive the items, give us a call, and we will set up a delivery.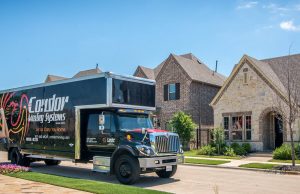 In-Home & Video Visual Moving Estimates
In addition to our expert over-the-phone estimates, Condor Moving Systems provides Texas movers with in-home on-site estimates for your long-distance move. When you are ready to start the planning process, we will send out one of our dedicated and highly experienced estimators to help figure out all of the long-distance moving services and equipment you will need. If you cannot schedule an in-home visit for our team, we can also set up a visual video tour to begin the process. Contact your moving consultant to set up an on-site estimate today.
Ensure the Location of Your Items With GPS
Safety is vital to how we conduct our long-distance moving services, and having up-to-date location tracking on our trucks is a must. We have equipped each of them with these devices so we can locate them the moment you have any questions or concerns about where they are at on the journey. If there is an accident or they need to re-route due to construction, we will be able to follow them and update you with their estimated time of arrival. We can also help them with directions should they take a wrong turn or need further guidance on the new location. Having this access also safeguards you from showing up too early when meeting for the unloading. Our aim is not to waste your time with our ETAs.
Trust Condor Moving Systems For Your Next Move
Long-distance moving services from Condor Moving Systems expedite the process so you can get back to work or start living your life in your new space. Our team diligently plans and executes your personalized moving plan to safeguard you and your employees or family from wasted time. To help stay on top of the staff and ensure the move goes smoothly, we provide businesses and residents with an on-site project manager to make any necessary changes as they occur. Give us a call today to schedule your in-home, over-the-phone, or virtual initial consultation and inspection. After that, you will receive your estimate, and we can begin.