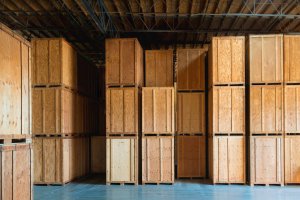 Condor Moving Systems offers storage solutions for local moves and long-distance moves. We serve many major cities in Texas, including Arlington, Dallas, Fort Worth, Houston, Austin, San Antonio, and many others. Storage is available for short-term or long-term moving needs in our 20,000 square foot state of the art secured and climate controlled warehouse. All shipments coming into storage are inventoried at the customers home prior to loading on our truck. Each item is tagged with an inventory tag that has a unique color, lot number and item number that correlate it back to customer's shipment. Inventories are done to ensure that what is picked up at the customers home is delivered.
Short Term Moving Storage
Short term storage is provided for those customers who need to place their household goods in storage for under 30 days. For those planning a shorter move in the Texas or DFW area, this can be the perfect solution. Our short term moving storage solutions are ideal for anyone moving within Texas, including major cities like Dallas, Fort Worth, Houston, Austin, San Antonio.
Long Term Moving Storage Solutions
Long term storage is available for customers needing to store their belongings for more than 30 days. Shipments being stored for over 30 days are placed in wooden storage crates to ensure that items are kept together and secured.
For example: Many of our customers have to move out of their current home but need to place their household goods in storage until their new home is ready or until they find a new place to move into. At Condor Moving Systems we can store our customer's household goods in our warehouse until our customer is ready for delivery. Once customer is ready for delivery they simply let us know and we get them scheduled for delivery.
Long Term and Short Terms Storage charges are based on the actual weight of customer's household goods; rates start at $100.00 per month. Storage charges are billed monthly and due by the 5th of each month.
Condor Moving Systems is happy to offer both long and short term storage solutions that will suit the needs of anyone moving in Texas. To learn more about our storage solutions, please contact us today.