Condor Moving Systems Offers Corporate Relocation Tips
To attract top-tier talent in a global marketplace, companies should consider offering a corporate relocation package. As a corporate relocation specialist in Dallas, Condor Moving Systems would be happy to help you move your employees anywhere in Texas or even out-of-state. Below, you'll find corporate relocation frequently asked questions. We encourage you to reach out to our moving team with any additional questions or concerns you may have about the corporate relocating process.
Why Trust Condor Moving Systems With Corporate Relocations?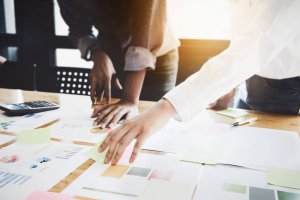 Since opening our doors in 2003, Condor Moving Systems has emerged as an industry leader by setting high standards of professionalism. We've streamlined our corporate relocating services to be as hassle-free and cost-efficient as possible. We've earned two of the highest moving certifications – ProMover status with the American Moving and Storage Association and Pinnacle Mover status with the Southwest Movers Association – to give you peace of mind in our abilities. Our corporate relocation company is fully insured, licensed, and authorized to offer local and long-distance moving services through the Texas Department of Transportation and the Federal Motor Carrier and Safety Administration. We maximize value and quality to accommodate your corporate relocation needs.
How Do Your Relocation Services Differ From Your Competitors?
Thanks to our decades of expertise and vast resources, we're able to minimize relocation costs to save our customers money with exclusive rates and discounts. You'll enjoy a single point-of-contact to maintain open lines of communication and streamline the entire process. Let us handle all the logistics of your employees' moves, so they can focus on other tasks like preparing to embark on a new career path. We work with companies of all sizes from most major Texas cities, including Dallas, Fort Worth, San Antonio, Houston, and Austin. We offer unrivaled free full value protection coverage for long-distance moves, with a $15,000 coverage minimum and a $500 deductible.
Our moving consultants are available from 8:30 a.m. to 5:30 p.m. Monday through Friday and after-hours via our 24-hour emergency customer line to assist you. Our uniformed moving crews are among the best in the industry, and we maintain a state-of-the-art moving fleet equipped with GPS technology, automatic lift gates, and air ride suspension systems for a smooth ride. You can't go wrong with us!
Do You Have a Program for Employees Moving With a Lump Sum?
Yes, whether you prefer to pay us with a lump sum, direct reimbursement, or direct billing, we can accommodate your unique preferences. Our personal moving consultants will work with you to customize the best corporate relocation package for your company's and employees' needs.
What Is Employee Relocation? What Industries Offer Programs?
Employee relocation is the term applied when companies ask current employees or new hires to relocate for their job. Just about any industry may offer an employee relocation program these days. Establishing an employee relocation program helps offset the costs involved with moving. Giving them a lump sum or reimbursements can help them fix up and sell their current home, find a new one, and move their belongings with the help of a professional moving service.
What Are Benefits of Offering a Corporate Relocation Package?
Today's global marketplace dictates the need for corporate relocation packages for companies to remain competitive when attracting new employees from different markets. Other benefits of offering a corporate relocation package include:
Minimizes employee downtime for improved productivity
Minimizes employee involvement in moving logistics
Minimizes risks to your employee's health and safety
Helps you cast a wider net when developing your talent pool
When Should I Contact Companies for Moving Estimates?
We recommend contacting corporate relocation companies as early as possible to ensure their availability on your requested moving dates. Most companies prefer at least two months' notice if possible, especially during the spring and summer months when they tend to be busier.
Do Your Corporate Relocation Services Include Packing?
We can customize our corporate relocation packages to include packing and crating services if you desire. Many people prefer leaving their packing up to our experts who can complete the task much quicker due to our experience and mover-grade packing materials. What could take you weeks or months to pack may only take us a few hours. Choose from among partial- and full-packing services. We can also custom-crate fragile items, including paintings, mirrors, antiques, chandeliers, and more.
Do Your Movers Provide Furniture Assembly/Disassembly?
We can include furniture assembly and disassembly services in your moving quote. However, please note we will not assemble or disassemble ready-to-assemble (RTA) or pressed-wood furniture, bunk beds, or cribs. We will also blanket-wrap furniture with heavy-duty pads to protect items from nicks and scratches during transport. Our sophisticated strapping systems also prevent furniture from shifting around inside our moving trucks.
Do You Connect or Disconnect Electronics and Appliances?
We do not offer electronics and appliance connection or disconnection services due to safety concerns. Our movers also do not set up trampolines, exercise equipment, or playground and swing sets.
Are There Any Items That You Do Not Move for Customers?
We do have a list of non-allowable items, which includes anything deemed hazardous or perishable. Examples of perishables that we won't move include frozen or refrigerated foods, plants, and opened food products. Examples of hazardous materials that we won't move include fireworks, paints, acids, aerosols, car and household batteries, gasoline, kerosene, and propane tanks. These policies were designed to protect our employees at Condor Moving Systems.
What if We Need to Reschedule Our Corporate Relocation?
If you need to reschedule your corporate relocation services, please reach out to us as soon as possible. Some cancellation fees may apply, depending on how much notice you're able to give us. We always strive to accommodate any last-minute changes for our customers' convenience. Consult our moving checklist or moving blogs for advice about how to prepare for your big moving day!
What Happens if Items Are Lost or Damaged During Transport?
We make every effort to ensure your items are transported safely from point A to point B. However, we recognize accidents sometimes happen. Our Texas corporate relocation company offers various moving coverage options to replace lost or damaged items. Our long-distance moving services include free full value replacement coverage with a $15,000 coverage minimum and a $500 deductible. We also offer an economical option called release value coverage (or minimum carrier's liability) for local moves. Under minimum carrier's liability, replacement values are calculated by multiplying the weight of the article by 60 cents per pound. Full value protection coverage is calculated by multiplying the weight of the article by $6 per pound. Always understand your moving rights and responsibilities before making a move.
Do You Offer Short-Term or Long-Term Storage Solutions?
If you're ready to relocate but need to delay the delivery of your belongings for any reason, we offer short-term and long-term storage solutions. Our 20,000-square-foot warehouse is climate-controlled and secure for your peace of mind. All shipments are carefully inventoried with unique lot and item numbers to make it easy to locate them when you're ready for them. Storage is ideal for anybody moving within Texas or from out-of-state. We bill monthly, with storage rates starting as low as $100 per month. Talk to your moving consultant about the possibility of adding storage to your package.
Can You Help Us Develop a Corporate Relocation Policy?
Having a corporate relocation policy in place is a smart protocol for any company in today's global culture. Our corporate relocation experts in Dallas would be happy to help you develop yours to ensure everything goes as smoothly as possible for you and your relocating employees. We can customize our corporate relocation services to suit your company's unique needs. Reach out to us today toll-free or fill out our online quote request form to get started with a binding moving estimate!