Condor Moving Systems is proud of our long history of dedication to customer service, quality results, and client satisfaction. A women-owned business and Historically Underutilized Business by the state of Texas.
We are certified by the AMSA as a ProMover and Certified Moving Consultant, as well as the Texas Department of Motor Vehicles as a Licensed Mover. Additionally, Condor Moving Systems holds the Pinnacle Mover Certification by the SMA.
With over 15 years of experience in serving, you can trust Condor Moving Systems to handle your move with care, respect, and efficiency. see Condor Moving Systems partners.
ProMover (American Moving & Storage Association)
As a ProMover (AMSA Certificatoin Num. MC-458180) Condor Moving Systems has agreed to abide by the American Moving and Storage Association code of ethics and passed a review of professional business standards before being recognized as a quality moving company. Condor Moving Systems has signed an agreement affirming to uphold the American Moving and Storage Association rules to provide quality moving services. Typically the ProMover program applies to interstate commerce "state-to-state' moves but in some states it includes local movers. The main purpose of the ProMover program is to promote ethical principals in the moving and storage industry.
Condor Moving Systems is proud of our ProMover status. We are a ProMover certified moving company located in Arlington, TX and serving clients across the DFW region, including Dallas, Arlington, Fort Worth, Houston, San Antonio, Austin, and elsewhere across Texas.
Pinnacle Mover (Southwest Movers Association)
In May 2010 Condor Moving Systems obtained Pinnacle Mover status from the Southwest Movers Association. The Pinnacle Mover program has strict guidelines of what makes a Pinnacle Mover below is some of the criteria:
Obtain a Texas Department of Transportation (TxDOT) registration number
Maintain membership in good standing in Southwest Movers Association
Maintain a satisfactory U.S. Department of Transportation Safety Rating
Have no unresolved Better Business Bureau claims on record
Maintain business or commercial auto liability coverage
Carry the following insurance minimums: Auto Liability: $1,000,000; Workers Compensation (Statutory limits set by state); General Liability: $1,000,000; Cargo Insurance: $50,000
Comply with all other state and federal regulatory requirements
Pinnacle Mover are also required to have a minimum of 150 points out of the following optional items in order to receive Pinnacle Mover status:
Maintain and enforce an associate dress code
Maintain and enforce a formal alcohol/drug testing program for all associates
Maintain and enforce a formal associate conduct policy
Maintain and enforce a formal safety program
Distribute an associate/driver safety manual
Have a certified safety director on staff
Have a certified maintenance director on staff
Have a written and distributed mission statement
Administer an associate recognition program
Maintain a tuition assistance program for associates/employees
Conduct employee training programs
Maintain a maintenance recycling program
All motorized fleet vehicles less than 10 years old
All trailers less than 15 years old
Achieve certification from any American Moving and Storage Association program
Measure and receive credit for claims ratio measured by total claims paid versus total revenue
As a Pinnacle Mover Condor Moving Systems has passed a rigorous certification process that can give our customers peace of mind that Condor Moving Systems is the right choice. We are proud to be a Pinnacle Mover Certified Company in Arlington TX, and happy to serve clients across Texas and the DFW region, including cities like Dallas, Houston, Austin, San Antonio, Fort Worth, and many others.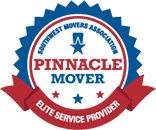 For more information contact us today