One of the best ways to stay organized and stress-free when moving day is to create a checklist, and use it. There are many details that go into relocating, from making sure you have everything packed up properly to changing your address and securing a local moving truck. One of the most commonly forgotten details of a move is safeguarding your floors. Whether you have wood flooring or carpet, they are sure to take a beating from the amount of traffic that will be going through your house on moving day.
While damaging your wood floors and carpet may seem unavoidable, there are a handful of things you can do to protect your flooring from possible damage due to traffic and dragging or dropping items on its surface. In most cases, professional moving companies like Condor Moving Systems can provide protection for your flooring upon request; however, you should still prepare yourself to shield the floors yourself and adopt certain practices to ensure they are protected come moving day.
5 things you can do to protect your floors on moving day:
– Have the movers wear shoe covers.
This may seem like common sense, but in the event you notice your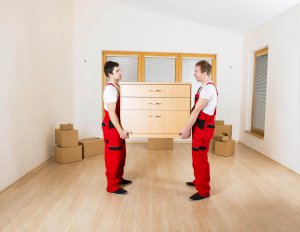 professional movers are not wearing shoe covers, just ask. Shoe covers are key to protecting your hardwood floor from getting scratched up and from movers bringing in dirt and other outside grime onto the carpet.
– Use sliders for heavy pieces of furniture.
Furniture sliders won't only create a protective barrier between your flooring and the piece of furniture you are moving, but they make moving heavy items easier and safer. They also help prevent accidental damage from dropping, which is a must
– Cover your carpets.
Placing a special plastic carpet film over your floors on moving day is one of the best ways to ensure your carpet stays clean and undamaged. Another option is to use towels, drop cloths, blankets, or even old carpeting to protect the carpeted floors.
– Use area rugs in high-traffic areas.
This is especially beneficial to those with hardwood floors. Strategically placing area rugs in high-traffic areas such as doorways will go a long way in protecting them.
– Wrap the legs of tables and chairs.
You can protect both the legs of your furniture as well as your flooring by placing towels or even socks on them. This will ensure that if they are dropped, the floor won't be damaged.
When creating your moving day checklist, don't forget to include "protect floors" as this is an important but often forgotten part of moving that could result in serious damage if not approached with care. To learn more about our local Arlington moving services or to schedule a move with Condor today, please give us a call