Packing breakables is something every homeowner worries about, and for good reason.
Whether dishes, glassware, or an heirloom vase,
you want to be as careful as you can when packing these items for a move.
Not only does packing up breakable items require a lot of planning and preparation,
but patience is key. If you are like many of us,
you have experienced the devastation and frustration of opening up a box after a move
only to find a shattered mirror or broken plate.
Since you surely don't want to experience that same feeling of disappointment this time around,
we've compiled a handful of tips to help you pack up your breakables.
It really just comes down to adequate preparation, having the right tools,
and not rushing through the process.
Tips and tricks should help you safely packing Breakables:
1. Use the Right Box – The number one tip when packing up fragile items is to use the appropriate sized box.
Don't try and stuff your precious items into a box that is too big or one that cannot withstand the weight of your valuables.
Opt for a thicker cardboard and use boxes that are specifically designed for dishes when packing up cups, plates, bowls, and other breakable kitchenware.
2. Don't Leave Any Empty Spaces –
Packing the box tightly and filling up all empty spaces with proper packing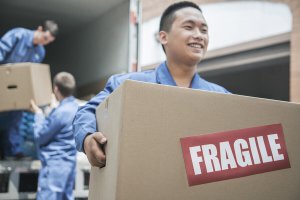 paper and bubble wrap will help absorb shock and offer more support for the items.
Packing peanuts, empty two-litre plastic bottles,
and styrofoam are also good items to use when you need to fill up any empty spaces in a box.
3. Wrap Items Up – The key to protecting your breakables is to wrap each item individually.
Choose strong paper and be sure you are thoroughly wrapping each item.
For super thin items, use several layers of paper for increased protection.
4. Don't Forget the Tape – Once your items are wrapped and placed securely in the box,
remember to use packing tape to tape up the boxes.
Packing tape is much stronger and wider than other types of tape,
which means it will hold better and not come undone.
5. Wait on Your Most Precious Items – It is generally recommended that you pack up everything else before you pack up your breakables.
Packing up your valuables will take longer than packing up less delicate items,
so be sure you set aside enough time to prevent you from rushing through this step.
Before you move –
Before you move, be sure you take the time to separate your breakable items from everything else and then give these items extra attention when it comes time to pack.
Never rush when wrapping and packing up breakables, as you will be kicking yourself when it comes time to unpack and your favorite dishes are cracked or shattered.
If you have any additional questions about packing breakables or would like to schedule a move with Condor today, please feel free to give us a call.