Making the decision to move is a big one, but it is also one of the most exciting things you will ever do. Whether this is the first time you have moved away from your hometown or you are someone who moves around a lot, it helps to have a little bit of info about your new town before you get there.
If Dallas happens to be the next spot that you will be calling home, we'd like to start off by welcoming you! Dallas is a wonderful place to settle down and plant your roots, regardless of your age or where you are at in your life. The arts and culture scene in this area is one of the best in the country, not to mention the numerous opportunities for live entertainment, sporting events, and the incomparable dining options. Furthermore, Dallas has a low cost of living, mild winters, and a booming job market that is showing no signs of slowing down.
As a local Dallas moving company, we have helped hundreds – if not thousands – of people make the move to this bustling city and we are prepared to do the same for you. Dallas is not only a great place to live because of all the different activities you will find, but because of its diversity.
Moving to Dallas? Facts you should know about the area
That being said, let's take a look at a handful of other facts you should know about the area before you get here and settle into your new abode:
– There are tons of job opportunities
While the rest of the nation is still struggling to create jobs, Dallas is in a whole different boat. So far in 2015, Dallas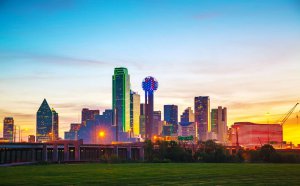 ranks first in the rate of job growth among the 12 largest metropolitan areas in the nation and third in the number of jobs added. Dallas boasts a well-rounded economy that includes booming technology, energy, and finance sectors, providing people with many different industries to choose from.
– Housing is affordable
Another reasons people are drawn to Dallas is because of the affordable houses and apartments. The median price for a single-family home is around $160,000 and most two bedroom apartments cost between $1,000-$1,300, which is among the cheapest in the entire state.
– Shopping is prime
Dallas is home to some of the best and most high-end shops in the state, making it a hotspot for tourists and locals alike. There are also numerous shopping opportunities just outside of Dallas, including the Shops at Legacy in Plano.
– It is a sports fan's dream come true
Home to Cowboys, Stars, and the Texas Rangers (OK, they are technically located in Arlington, but Dallas likes to claim them as their own), Dallas is a dream come true for sports fans. With the Dallas Cowboys building a brand new facility in nearby Frisco, we see no sign of this changing any time soon.
– Lots of opportunity for adventure
Dallas boasts an extensive park and trail system (over 400 to be specific) and is also home to Six Flags Over Texas, the first theme park in the franchise, making it a wonderland for those looking for a little adventure. The city also puts on the month-long State Fair of Texas, which has been held at Fair Park since 1886.
– The winters are mild
Ok, there's no getting around the fact that the summers are hot in Dallas. However, this fact is countered by the incredible mild and enjoyable winters that the city is blessed with. From May to September, the weather couldn't be more perfect. Dallas does see the occasional snowfall, but this isn't the norm and the temperatures are typically in the 50s and 60s.
Moving is an exciting time, especially when you are relocating to somewhere as awesome as Dallas. Remember, Condor Moving Systems is here to help you with every step of your move, so give us a call today and let us take over the hard part.